Green Tourism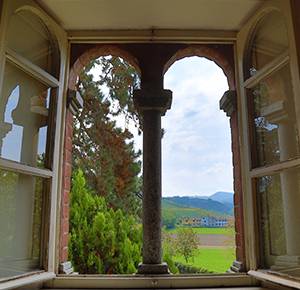 Immersed in a tidy park on a gentle slope belonging to the hills of Oltrepò Pavese, Villa Castello di Torrazzetta is a privileged place to discover the beauty of the province of Pavia, dedicated to sustainable green tourism.
A few kilometers from the Greenway Voghera-Varzi, the new jewel of the Lombard cycle-pedestrian network, Villa Castello di Torrazzetta is a perfect starting point to follow the roads on two wheels.
You can find simple white roads or non-demanding tarmac roads, to walk or to ride a bike, which allow you to discover the historical production areas of the DOC and DOCG wines of the Oltrepò Pavese, combining the eno-tourism with cycle-tourism, among beautiful wine estates, castles and green vineyards. Maybe even adding a visit to the producers of the well-known "Salame di Varzi DOP" or the tasty high-quality cheeses of the valley Schizzola, Ruino, Brallo di Pregola.
Lovers of history will love a path in the neighboring territory of the eco-museum of the first hill, which in addition to naturalistic attractions, allows you to retrace places that have seen the Romans firstly, the pilgrims going to Rome on the Via Romea then, and in more recent times, the large armies fighting in "Montebello della Battaglia" during the Second War of Independence.
If you have always been attracted by the Middle Ages, along the ridges of the Oltrepò starting from Torrazzetta, the mighty castles of Torre degli Alberi, Oramala, Varzi, Montesegale, Zavattarello are easy to reach. Authentic villages, excellences remembered among the most beautiful villages in Italy (like Fortunago) or ancient abbeys full of legends. Like Sant'Alberto di Butrio, in the municipality of Ponte Nizza, with churches preserving precious wall paints, and the cloister where, according to tradition, Edward II King of England, was buried.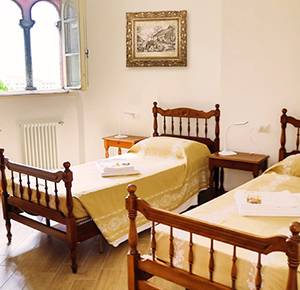 Villa Castello di Torrazzetta is the ideal partner for tour operators, associations, families, groups of friends to organize stays in the countryside (short or long term) and to organize tours in the province of Pavia to discover the thousand attractions of Oltrepò Pavese. In our hotel, rooms of different types are available: historic rooms with period furniture (which welcomed, among others, Napoleon III), contemporary rooms equipped with all comforts, the Hermitage (independent solutions of hospitality with kitchen and common areas). Thanks to the collaboration with chefs and banquets always proposing new menus, with local products and concerned to sustainability, the experience at Villa Castello is completed by the signs of authentic taste.
Trekking, Nordic walking, cycling, e-bike, mountain biking, trail running, hiking, horseback riding, historical itineraries, itineraries of faith… many different ways to live a land full of charm, hosted in a unique location. Comfortable and strategically located in the center of the Oltrepò Pavese and a few kilometers from the main communication routes (motorways, railways, bus lines).