Hospitality
For pilgrims who decide to retrace the ancient Francigena and Postumia routes, towards Rome or Aquileia. For those who choose to dedicate themselves to a period of contemplation immersed in history and nature. For cycling enthusiasts, who let themselves be charmed by the gentle slopes of the Oltrepò. For groups and associations looking for functional rooms and discreet hospitality. Villa-castello di Torrazzetta offers different solutions, with comfortable and sober rooms or grand vintage bedrooms, all equipped with contemporary comforts and the possibility to benefit from a zero km kitchen. Inside the main building of the ancient villa, or in the more secluded hermitage, all the welcoming possibilities of Villa-castello di Torrazzetta are surrounded by a centuries-old park which rises on the top of a small hill, in the first slopes of Oltrepò Pavese, in a world of nature and tranquility, a few kilometers from the major centers of north-western Italy.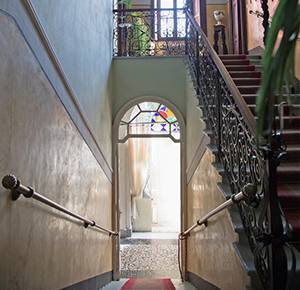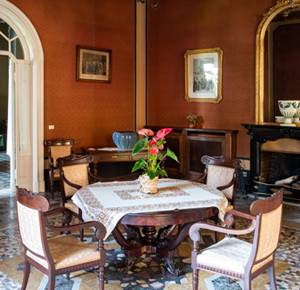 Contemporary rooms
All with en suite bathroom, modern comforts and a basic and elegant decor, the contemporary rooms are located within the main structure of Villa-castello di Torrazzetta, and offer the ideal solution to those looking for a simple environment, but in the refined context of an ancient noble residence.

Ancient rooms
On the main floor of the villa, in the oldest heart of the structure, you can immerse yourself in the most authentic spirit of the nineteenth century, a refined atmosphere that also enchanted the emperor Napoleon III who stayed within these walls. Still with the original furnishings of the time, these rooms stand out for the wide spaces and the possibility to grant an absolutely unique experience.